Qualities of Top SEO Agency in Singapore
Before you employ an SEO company in Singapore you must know what qualities your SEO team must possess. SEO is a marketing process that requires investment of heartful efforts. Basic homework before selecting an SEO services company can save you a lot of money and time. By searching keywords like "SEO company in Singapore", "Singapore SEO company", "SEO services in Singapore", "SEO Singapore" or "best SEO agency in Singapore" and believing that the company is the best SEO company in Singapore might not give you results that you are looking for.
So, the big question is how and what to look into and trust.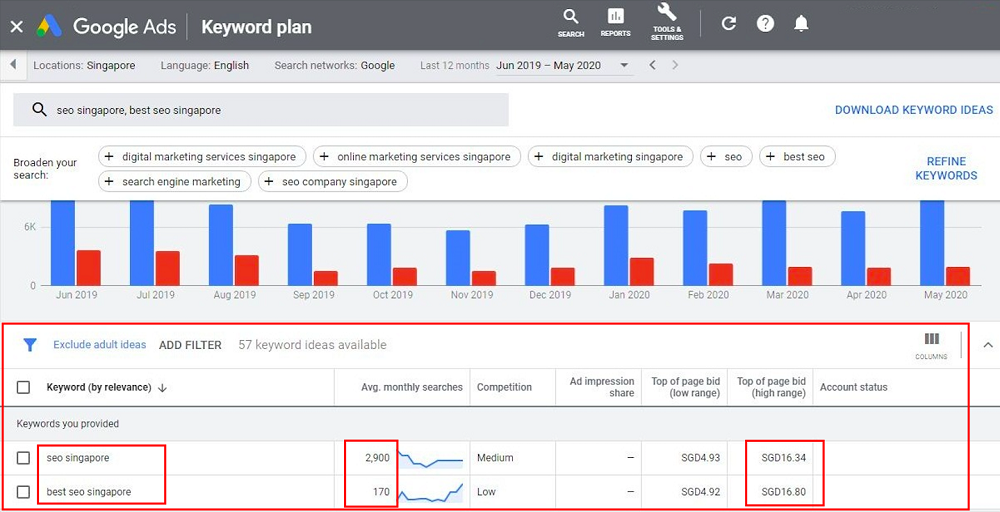 Spending a little time reading the next few paragraphs will surely help you to understand the insights.
SEO is all about optimizing your website to the search engine. As Google is used by the majority of the users, the website should be optimized to Google's requirements by the search engine optimization (SEO) company. Though it is not possible to exactly know each and every parameters used by Google, SEO experts must analyse and research various trends and factors such as latest updates in Google Search Console and others. The best SEO agency must also understand and follow the ethical methods of SEO.
Monthly Search Traffic, Google Ads bid amount of any keyword help in evaluating what most of the users are searching and which keyword is more important than other keywords. For example, if Mr. X wants to avail SEO services in Singapore then he might search any or all keywords like "SEO services in Singapore", "Singapore SEO services" and "best SEO services in Singapore".
Now, from an SEO services provider's point of view which keyword is most important?
The "SEO Singapore" keyword has the highest monthly traffic of approx 2900 searches and the bid amount is approx SGD 16.3 Whereas the "Best SEO Singapore" keyword has monthly search traffic of approx 170 searches and the bid amount is approx SGD 16.80. "SEO services Singapore" and "Singapore SEO services" keywords have monthly search traffic of approx 880 searches and the bid amount is approx SGD 9.92.
The best SEO company must be experts in on-page, off-page, and other technical aspects of SEO. The Singapore SEO company has to use all these if your website must appear on the first page. One cannot hire different SEO teams for each of these processes and hence one must look for a company that has experts in all these comprehensive fields.
The SEO company must understand that SEO is an integral part of marketing strategy and focus must be on targeting the right audience. For this, the SEO services agency must have a clear understanding of goals and plan to achieve by SEO process.
When you talk about digital marketing you cannot take SEO in isolation. There are many other online marketing tools that the SEO services company must have team experts having hands-on experience. They should have experts in SEM, PPC, social media marketing, etc. A good SEO service provider will know that the synergy of all these strategies is essential for quick and sustainable results in digital marketing. They must also keep themselves updated with changes in Google search algorithms that the search engine keeps refining to give its users a better experience.
Talking of user experience, Google has become increasingly looking at websites to see the whole experience that it will give to the user. It is not just enough to have relevant and informative content. Your website design plays an important role in user experience and the best SEO company in Singapore will be able to improve the web design to offer the user an exciting experience on your website.