Understanding the Importance of Local SEO
How Does Local SEO Work?
SEO for local businesses is a gem in the world of digital marketing. It is the art of optimizing your website to increase visibility in local search results. The cool thing about local SEO is that it lets businesses promote their products and services to local customers and prospects. It focuses on specific towns, cities, regions, and even states, making it incredibly targeted.
Your local ranking on Google is determined by several criteria, including prominence (how well-known a business is), distance (how far away each possible result is from the searcher's location), and relevancy (how well your business fits what customers are looking for).
It's like being in a popularity contest in high school, but this time, you're armed with powerful SEO tools and strategies to win.
Differences Between Local SEO & Organic SEO
Now, you might be wondering, what's the difference between local SEO and organic SEO? Here's a table that highlights the key differences between Local SEO and Organic SEO:
| | Local SEO | Organic SEO |
| --- | --- | --- |
| Focus | Primarily concerned with improving visibility in a specific geographical area. | Aims at improving visibility on a national or global scale. |
| Target Audience | Target potential customers who are physically located in the same geographical area as the business. | Targets a broader audience, regardless of their location. |
| Key Ranking Factors | Proximity to the searcher, relevance to the search query, and local reputation. Google My Business profile, online reviews, and local citations are also crucial. | Relevance of the content to the search query, quality of the content, domain authority, backlink profile, and user experience. |
| Keywords | Keywords are typically location-specific, like "Indian restaurant in Taman Sutera." | Keywords are generally not location-specific, like "best Indian restaurant." |
| Results Displayed In | Local SEO results often appear in the "local pack" or "map pack" which shows a map with local businesses, their reviews, and contact information. | Organic SEO results appear in the list of results right below the ads and local pack. |
| Goals | Local SEO aims to drive foot traffic from local customers and promote visibility in local search results. | Organic SEO aims to drive website traffic from a broad audience and improve overall website visibility in search results. |
Effective Local SEO Strategy to Optimize Your Website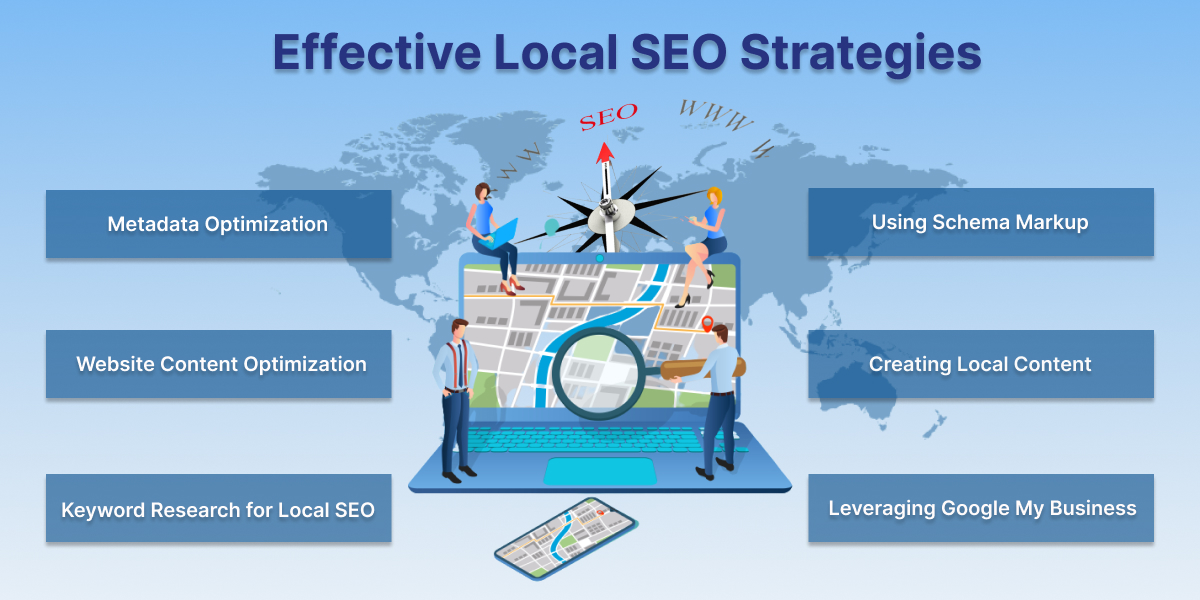 Keyword Research for Local SEO
The first thing you need to do when working on your local SEO strategy is good keyword research. Remember, though, it's not just about finding any keywords; it's about finding the right ones.
Let's assume, you run a boutique bakery in Singapore. It's not enough to optimize your website for "best bakery." You'll be competing against every other bakery in the world! Instead, aim for "best bakery in Singapore" or "artisanal bread in Bugis." Think local, and you'll find your niche.
Optimizing Website Content for Local Searches
Next up is optimizing your website content for local searches. Incorporate those location-specific keywords you've researched into your web pages, blog posts, meta tags, and headings. The idea is to make it incredibly easy for Google to recognize where you are and what you offer.
Also, create content that resonates with your local audience. If you're a Singaporean business, consider incorporating Singlish or discussing local issues. Show your love for the city, and it will love you back!
Leveraging Google My Business (GMB)
Ever noticed those businesses that pop up when you search for something like a "café near me" on Google? That's Google My Business at Work! It's free to use and incredibly useful for businesses aiming to boost their online visibility. After setting up your GMB profile, ensure it's complete, accurate, and optimized. That includes adding your name, address, and phone number (NAP), your business hours, and a captivating description.
Note - Google itself provides valuable insights and guidelines on how to improve your local ranking through GMB on Google search and maps
Creating Local Content
Local content can seriously boost your efforts of SEO for local businesses. This could be blogs about local events, news, or other relevant local information. It's all about building authority in your community. By creating content that's genuinely useful for your local audience, you show that you're not just in the community – you're a part of it.
Using Schema Mark-up
Structured data, often known as schema markup, is an effective SEO strategy. It aids with the comprehension of your website's content by search engines. Schema markup functions similarly to providing Google with a tour of your website, pointing out all the key areas.
There's a specific Schema for local businesses, which includes information like your business type, opening hours, and location. It's a bit techy, so you might need a developer to help out. But believe me, it's worth it!
Optimizing Your Metadata
Metadata may be invisible to visitors, but it's all too visible to search engines. It includes title tags, meta descriptions, and image alt tags, all of which need to be optimized with location-specific keywords. This aids with the comprehension and accurate ranking of your content by search engines.
Winning Strategies for Local SEO Success in Singapore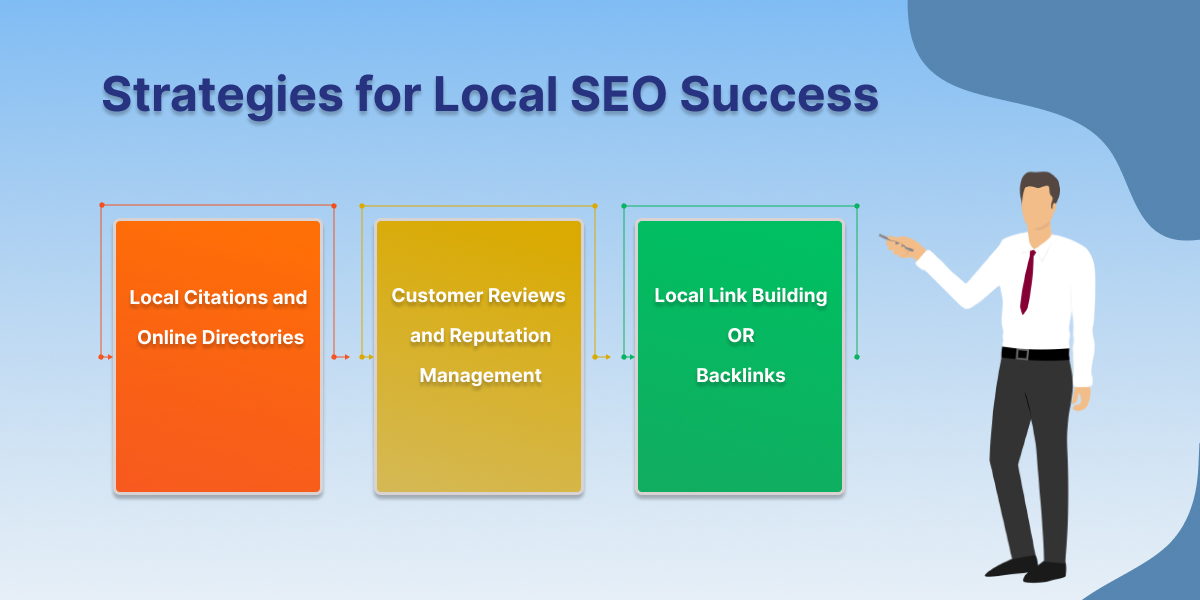 Local Citations and Online Directories
Think of local citations as digital word-of-mouth. They're online mentions of your business that help improve local search engine rankings. Local citations come from a variety of sources, including local business directories, websites, and social platforms. Make sure your NAP is consistent across all platforms because consistency is key.
Customer Reviews and Reputation Management
Customer reviews are critical for local SEO. They foster confidence among potential clients by providing social proof. Plus, they provide fresh, user-generated content for search engines to crawl. Encourage your customers to leave reviews, respond to them promptly, and manage your online reputation like a hawk.
Note – According to the local SEO expert Mike Blumenthal, the business is responsible for how the review platform works, as well as the SEO and reputation management firms' behaviors. So, Review suppression doesn't work. Customers can see the difference between your site and the Google reviews.
You do not have to publish offensive or inappropriate review content. Ensure you have a clear TOS published on your site explaining the FTC guidelines, and publish everything that meets those guidelines.
Read More - Impact of Reviews on Building Google's Trust in Your Brand
Local Link Building
Building local backlinks is another effective strategy for improving your local SEO. Backlinks from high-quality, local websites not only drive relevant traffic but also signal to search engines that you're a trustworthy site. Consider collaborating with local bloggers, influencers, and businesses to boost your local backlink profile.
Below are off-page factors that you will need to pay more attention to:
Link to your local company listings online by using a consistent NAP.
Together all of your regional partners, suppliers, and distributors. Look through their website to find the particular pages where a link to you would be beneficial, then send them an email to ask for the link.
Visiting local websites for a guest post.
Participate in social media and share information that includes a link to your website.
Write press releases for your business and submit them to local news sites.
Mobile Optimization and Local SEO
Mobile-Friendly Website Design
With so many of us glued to our phones, it's no surprise that a mobile-friendly website is a must. Especially for local searches, which often happen on the go. Make sure your site loads quickly, is easy to navigate and looks just as good on a mobile screen as it does on a desktop.
Voice Search and Local SEO
As we advance into the digital era, voice search is becoming increasingly popular. Concentrate on long-tail keywords and natural language when optimising for voice search. Where is the closest hawker centre, Google? than just "hawker centre," which is more likely to be a voice search inquiry.
Conclusion
There you have it, then! An extensive manual for maximising Local SEO in Singapore. It is becoming a must rather than only a choice. You can get a tonne of local search traffic and create new business prospects with the appropriate techniques.
Whether you're a hawker stall at a local market or a multi-million-dollar enterprise, local SEO is a tool that can help you connect with your target audience like never before. Remember, SEO isn't about reaching a global audience; it's about reaching the right audience. And sometimes, that audience is right in your backyard.
BTHRUST can help you to make an effective strategy for local SEO in Singapore and get the right audience for you. BTHRUST is considered a provider of the best SEO in Singapore. They are a reliable and affordable solution for all your digital marketing needs. You can contact them and enjoy the online growth of your business.